Filter Vassleprotein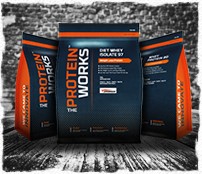 Vassleproteinpulver anses vara det mest använda proteinpulvret i tillskottsindustrin. Vassleprotein är kopplas ofta samman med styrka, och hastighet, men även inom uthållighetsidrotter har vassleproteinet blivit allt vanligare. Detta av en enkel anledning; tusentals studier har kunnat visa på proteinets effekt. Vetenskapliga studer slår fast att protein bidrar till muskeltillväxt och en bibehållen muskelmassa. Det är lätt att förstå varför proteinpulver är en basvara hos idrottare världen över.
Whey Protein 360 is a premium protein shake that breaks new ground in protein formulation and flavour. It has been specifically designed to work with almost any fitness or body goal as its high in protein and low in sugar. Whey Protein 360 is ultra pure, natural and made with the very finest protein sources. Looking for more? Then check out our

Whey Protein 360 Extreme

, our most innovative protein shake to date!

Whey Protein 360 Extreme elevates your protein shake experience to a whole new level. Setting a new gold standard in protein shake taste and efficacy, you won't find a better shake in sports nutrition today. Made with a multi-phased protein system sourced from premium grade protein, Whey Protein 360 Extreme also includes Digezyme® to aid digestion and macronutrient absorption.

TPW™ 100% Whey Extreme is unrivalled in terms of protein, vitamin and amino density. Along with our exclusive TPW protein blend, iBCAA and all-natural flavours, we have also infused 100% Whey Extreme with a nutrient packed vitamin blend, containing over 13 vitamins and mineral in every shake! With this incredible nutritional profile and epic taste, TPW 100% Whey Extreme has broken new ground in ultra pure, lean protein shakes.

Diet Meal Replacement is a high protein, nutrient dense, meal replacement shake specifically designed to contribute to weight loss. Our team of TPW Gurus have fused the latest sports science research with our tastebud tingling flavours into an insane tasting protein shake. Delivering 25g of protein with our bespoke multivitamin blend and a host of diet heroes to give you the upper hand in your weight loss journey.

Diet Meal Replacement Extreme boasts everything you could possibly ask for in a meal replacement shake, and then some. Made from our very finest whey protein blend, it contains an optimal mix of fast and slow absorbing proteins to support muscle growth and repair. Every calorie has been squeezed and only the necessary made the final cut, providing the essential fuel you need to achieve your goals for just 209 calories per taste bud exhilarating shake. Better still, our new and improved formula now contains a new super dense Vitamin and Mineral Blend packing more punch per gram to help you fight fatigue and keep your body performing at its very best.

Diet Whey Isolate 95, also known as Native Whey, is an ultra pure whey protein isolate renowned for having a very high protein content at 27g per serving, and the lowest sugar and fat content of any protein on the market today. It has been designed specifically for anyone looking to decrease their calorie intake and lose weight. It has less than 1g of fat and less than 1g of carbs per 30g serving and uses advanced membrane technology to create an ultra-pure form of whey protein.

Whey Protein 80 is our award-winning whey protein concentrate. Winner of the highly coveted "Best Protein Award" in the FSN Product Awards, TPW™ whey protein is available in a wide range of exclusive natural flavours and is known for its exceptional purity.

TPW™ 100% Whey Advanced is an innovative, amino dense, premium whey protein blend designed and produced exclusively by THE PROTEIN WORKS™. Made from whey protein concentrate, whey protein isolate and hydrolysed whey protein, it delivers a controlled tapered release of protein.

Diet Whey Protein Isolate 90 is the ultimate premium grade whey protein. Uncontested in the purity department it boasts some seriously impressive credentials that are catered for anyone attempting to shift the scale in the right direction or improve overall lifestyle. This is the ideal product for increasing protein intake without the addition of extra calories (two important aspects of weight control). Containing an astounding 22g of protein per 25g serving and less than 1g of carbs and fats, if you're looking for quality to satisfy your taste buds, this is the product to be added to your daily routine

Naked Whey Protein 80 is the ideal whey protein shake for anyone looking for an exceptionally high quality protein source to aid muscle growth and repair, with the assurance that it contains absolutely no artificial additives of any kind.

Naked Diet Whey Protein 90 is an ultra pure, 100% natural whey protein isolate, exclusively engineered using natural flavourings, colours and Stevia which is a plant derived zero calorie sweetener.

TPW™ 100% Whey is a premium protein blend based upon our two best-selling whey proteins, whey protein concentrate & whey protein isolate. Formulated with 100% of the highest grade whey proteins on the market today, TPW™ 100% WHEY is ideal for supporting lean muscle growth.

Muscle Protein is a high protein, all-in-one protein shake for anybody looking to build and maintain muscle. Formulated with the finest whey protein, ultra pure creatine and our unique vitamin blend, Muscle Protein delivers over 35g of protein in every shake. It also comes in a range of insane tasting natural flavours, and if you order now you'll receive our 30 Day Mini Fitness Guide worth £19.99 ABSOLUTELY FREE!