Filter Återhämtning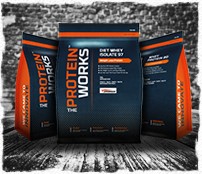 Vårt sortiment av proteinpulver för återhämtning innehåller några av våra populäraste produkter. Detta då protein och dess egenskaper i allmänhet förknippas med återhämtning och muskeltillväxt. Våra återhätmningsprotein innehåller förutom protein, även kolhydrater, aminosyror och beprövade extrakt i ett optimalt förhållande som gynnar dina muskler när de behöver det som mest.
TPW™ Recovery Protein is a scientifically designed formula that provides the body with the nutrients needed immediately after training to help the muscles recover and rebuild.

TPW™ 100% Whey Extreme is unrivalled in terms of protein, vitamin and amino density. Along with our exclusive TPW protein blend, iBCAA and premium flavours, we have also infused 100% Whey Extreme with a nutrient packed vitamin blend, containing over 13 vitamins and mineral in every shake! With this incredible nutritional profile and epic taste, TPW 100% Whey Extreme has broken new ground in ultra pure, lean protein shakes.

Whey Protein 360 is a premium protein shake, breaking new ground in protein formulation and flavour. To maximise protein sources - we blended premium grade protein powders together to create a 23g per serving beast. Perfect to support your fitness or body goals. With a full amino acid profile, low fat and no added sugar, our premium flavours unique to this range will want you coming back for more.

With only the best sources of vegan protein and over 25g of protein per serving - this vegan shake is a powerhouse. Not only have we have infused it with a vitamin and mineral blend to further enhance the benefits of this shake. It's naturally sweetened to ensure this is the purest vegan protein shake you can buy. With amazing flavours exclusive to this range - you'd be silly not to try it.