Filter Proteinpulver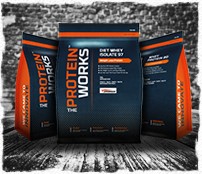 Proteinpulver från THE PROTEIN WORKS™ tillverkas av de allra finaste pulvren som vi kan hitta på dagens marknad. Vår specialitet är smakrika vassleprotein av hög kvalitet som du hittar i en mängd olika utföranden och storlekar. Vi tänker nytt, vi blandar och tillverkar egna proteinpulver av bästa kvalitet. Vi är hängivna och engagerade i allt vi gör, och vårt mål är att kunna erbjuda proteinpulver av högsta möjliga kvalitet, bredast utbud till ett helt enastående pris. Och ännu viktigare, vi använder bara naturliga smaker och färgämnen i alla våra proteinpulver. Du hittar dessutom INGA förtjockningsmedel eller fyllnadsmedel i våra produkter.
Våra proteinpulver innehåller en mängd olika proteiner. När det gäller det allmänt populära vassleproteinet och dess olika versioner har vi allt du kan tänkas behöva. Från vår bästsäljare Vassleprotein 80, ett högkvalitativt vassleproteinkoncentrat, till vårt ultrarena vassleproteinisolat känt som Vassleprotein 90, ett 90-procentigt vassleproteininnehåll med en oerhört låga nivåer av fett och kolhydrater. Vi erbjuder även formler och blandningar innehållandes kaseinprotein och äggprotein för en långsammare frisättning av näringsämnen, samtidigt som våra mjölkfria alternativ inkluderar Sojaprotein 90, Brunt ris-protein 80 och Ärtprotein 80.
Proteinpulver är ett utmärkt sätt att komplettera en högproteinkost. "International Olympic Committee Consensus on Sports Nutrition" uppger att "idrottare inom styrka och hastighet kräver 1,7 gram protein per kg kroppsvikt per dag." Detta eftersom protein är en av tre makronäringsämnen som kroppen behöver. Fett och kolhydrater är de två andra. Men det är proteinet som hjälper våra muskler att reparera sig och växa samtidigt som det hjälper varje process som sker i kroppen. Detta inkluderar immunsystemet, metabolism och transporten av näringsämnen.
Så, om ditt mål är att öka i muskelmassa, vad ska du då ha i din shaker? Vanligen rekommenderas vassleproteinkoncentrat eftersom det anses vara mycket rent. Vad detta betyder är att det har högt proteinvärde och låga mängder kolhydrater och kalorier. Detta i sin tur ser till att din kropp har allt det protein som krävs för att reparera och återhämta sig, men utan de extra kalorierna. Ett alternativ för idrottare och tränande som vill öka i ren styrka och växa i kroppsmassa är att använda en så kallad gainer istället, exempelvis i form av Total Mass Matrix som består av en kalori- och näringsrik formel. Den lämpar sig bättre för de idrottare som inte bryr sig om fettfri muskelmassa utan bara vill öka storleken och styrkan i sina muskler.
Många studier har gjorts om proteinets effekter på vikt- och fettminskning. Särskilt har man funnit att vassleproteinisolat har en "termogen effekt". Vad detta innebär är protein faktiskt kräver kalorier för att tas upp av kroppen. Av denna anledning är det många som kompletterar en proteinrik kost med energisnålt vassleproteinisolat. Vassleproteinisolat kan hjälpa dig att hålla dig mätt längre och samtidigt påskynda kaloriförbränningen genom upptaget i kroppen.
För att bibehålla en hög kvalitet på våra proteinpulver och ge dig maximal trygghet i vad du beställer, ger vi en 100-procentig garanti att vi aldrig kommer att använda förtjockningsmedel eller fyllnadsmedel i våra shakes, samt alltid endast använda naturliga färg- och smakämnen. Användningen av naturliga ingredienser är inte bara snällare mot din kropp, men det ger också en mer naturligt välsmakande proteindryck. Vi tillhandahåller oberoende analyscertifikat för varje produkt och erbjuder oberoende kvalitetskontroll på varje parti av vassle som vi producerar.
Ovanpå allt detta, till skillnad från nästan alla andra proteintillskottmärken på marknaden idag, är vi öppna och transparenta om exakt vilket och hur mycket protein som ingår i varenda proteintillskott. Du hittar denna information under "Proteininblick" på respektiva produktsida. Med TPW™ är inte bara kvaliteten säkrad, vi håller desutom våra priser låga så att du får en grym valuta för pengarna.
Whey Protein 360 is a premium protein shake that breaks new ground in protein formulation and flavour. It has been specifically designed to work with almost any fitness or body goal as its high in protein and low in sugar. Whey Protein 360 is ultra pure, natural and made with the very finest protein sources. We guarantee you won't find a better tasting protein shake on the planet.

TPW™ 100% Whey Extreme is unrivalled in terms of protein, vitamin and amino density. Along with our exclusive TPW protein blend, iBCAA and all-natural flavours, we have also infused 100% Whey Extreme with a nutrient packed vitamin blend, containing over 13 vitamins and mineral in every shake! With this incredible nutritional profile and epic taste, TPW 100% Whey Extreme has broken new ground in ultra pure, lean protein shakes.

Diet Whey Isolate 95, also known as Native Whey, is an ultra pure whey protein isolate renowned for having a very high protein content at 27g per serving, and the lowest sugar and fat content of any protein on the market today. It has been designed specifically for anyone looking to decrease their calorie intake and lose weight. It has less than 1g of fat and less than 1g of carbs per 30g serving and uses advanced membrane technology to create an ultra-pure form of whey protein.

Diet Whey Protein Isolate 90 is the ultimate premium grade whey protein. Uncontested in the purity department it boasts some seriously impressive credentials that are catered for anyone attempting to shift the scale in the right direction or improve overall lifestyle. This is the ideal product for increasing protein intake without the addition of extra calories (two important aspects of weight control). Containing an astounding 22g of protein per 25g serving and less than 1g of carbs and fats, if you're looking for quality to satisfy your taste buds, this is the product to be added to your daily routine

We set out to not only re-write the rules of food and fitness with this incredible shake, but to build a Vegan Meal Replacement Shake that would become a formidable force of nature. 6 months of planning down and over 100 taste tests complete & here we stand, loving this shake from head to toe because of its uncompromising nutritional profile. Packed with over 18.6g of 5 different sources of plant protein and fortified with our full vitamin and mineral blend (notably calcium, potassium, zinc and of course Vitamin B12), we then then topped it off with 100% natural, taste-bud-busting flavours. The final result, we confidently, proudly and unapologetically say that this Vegan Meal Replacement is unrivalled by anything else on the market.

Extreme isn't just a label, it's a philosophy. Nine months in the making and we're proud to say, this is way more than a shake, it's a new wave of Vegan nutrition. Created to be among the world's most nutrient-dense, vitamin-packed Vegan protein shakes this plant based beast was a massive undertaking we know, but sourcing the very best vegan-friendly protein powder from every corner of the globe & fusing them with over 20 different vitamins and minerals, we did it. Low in fat & packing more than 25g of protein per serving, Vegan Extreme is our plant-based pride and joy.

Diet Meal Replacement is a high protein, nutrient dense, meal replacement shake specifically designed to contribute to weight loss. It combines the very latest sports nutrition research and our taste-busting natural flavours into one best-selling protein shake. It's unique multi-protein source formula includes premium whey protein, milk protein & best in class plant-based protein.

Whey Protein 80 is our award-winning whey protein concentrate. Winner of the highly coveted "Best Protein Award" in the FSN Product Awards, TPW™ whey protein is available in a wide range of exclusive natural flavours and is known for its exceptional purity.

TPW™ Calcium Caseinate packs 27g of the finest protein per serving in one thick creamy shake. The very latest micro-filter technology is used to provide a product of unparalleled quality. Calcium Caseinate is popular with a wide range of athletes looking to improve their body composition. We recommend taking it post workout or late at night for optimal results.

Muscle Protein is a high protein, all-in-one protein shake for anybody looking to build and maintain muscle. Formulated with the finest whey protein, ultra pure creatine and our unique vitamin blend, Muscle Protein delivers over 35g of protein in every shake. It also comes in a range of insane tasting natural flavours, and if you order now you'll receive our 30 Day Mini Fitness Guide worth £19.99 ABSOLUTELY FREE!

Diet Whey Complex Extreme is low calorie, low fat and low sugar protein shake packed full of 100% natural flavours. It is the ultimate in weight loss shakes, with a whopping 22g of protein in every shake, it is perfect for anyone wanting to add a delicious and nutritious diet shake into their routine.

Diet Meal Replacement Extreme boasts everything you could possibly ask for in a meal replacement shake, and then some. Made from our very finest whey protein blend, it contains an optimal mix of fast and slow absorbing proteins to support muscle growth and repair. Every calorie has been squeezed and only the necessary made the final cut, providing the essential fuel you need to achieve your goals for just 209 calories per taste bud exhilarating shake. Better still, our new and improved formula now contains a new super dense Vitamin and Mineral Blend packing more punch per gram to help you fight fatigue and keep your body performing at its very best.

Skinny Protein is an incredible tasting diet protein shake that is high in protein. Skinny Protein offers a convenient 30 day plan in a range of delicious natural flavours. With just 96 calories and under 1g of sugar in each shake, Skinny Protein is perfect for anybody wanting to reach their weight loss goals and live a healthy lifestyle. Plus, order now & receive our 30 Day Mini Fitness Guide worth £19.99 ABSOLUTELY FREE!

Soy Protein Isolate 90 is a complete vegetable protein source. It is the closest of the vegetable proteins that most resembles the amino acid profile of dairy proteins such as milk and whey and is therefore a very popular non-dairy alternative protein.

TPW™ 100% Whey Advanced is an innovative, amino dense, premium whey protein blend designed and produced exclusively by THE PROTEIN WORKS™. Made from whey protein concentrate, whey protein isolate and hydrolysed whey protein, it delivers a controlled tapered release of protein.

100% Micellar Casein is considered the perfect shake for those who need a slow releasing protein to take before bed for those needing a slow sustained release of aminos to the muscles during sleep. 100% Micellar Casein has a smooth silky texture and can be added to shakes, smoothies, oats and home baking!

Naked Diet Whey Protein 90 is an ultra pure, 100% natural whey protein isolate, exclusively engineered using natural flavourings, colours and Stevia which is a plant derived zero calorie sweetener.

Egg Protein from The Protein Works™ is a high protein source made from 100% pure egg whites. It is inherently low in fat and carbohydrates and has an excellent amino acid profile. Most importantly, Egg Protein is lactose free making it ideal for anyone with a lactose intolerance.

TPW™ 100% Whey is a premium protein blend based upon our two best-selling whey proteins, whey protein concentrate & whey protein isolate. Formulated with 100% of the highest grade whey proteins on the market today, TPW™ 100% WHEY is ideal for supporting lean muscle growth.