Total Mass Matrix Extreme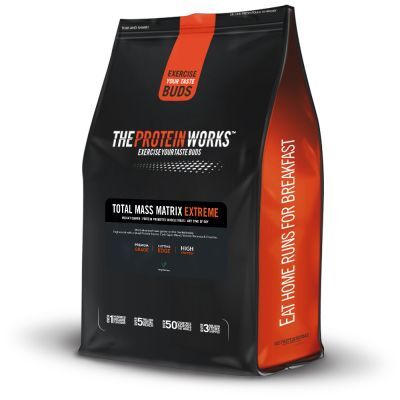 Total Mass Matrix Extreme
Total Mass Matrix Extreme är den mest kaloritäta och näringsrika viktökningsblandningen vi producerat på TPW™-labbet. Det innehåller en blandning med tre proteiner som ger mer än 65 gram protein och mer än 1 000 kalorier per portion, och Total Mass Matrix Extreme har tagits fram för att bidra till ökad muskelmassa.
Total Mass Matrix Extreme har också förstärkts med förstklassiga singelextraktingredienser och aminosyror. Där ingår en kreatinblandning från flera olika källor, L-glutamin, en B-vitaminblandning Vitablend, superkorn och det omskrivna nyttiga fettet medellångkedjiga triglycerider. Total Mass Matrix Extreme passar perfekt för alla som vill lägga på sig ansenlig massa.
Mer än 1000 kalorier per portion
En unik trippelblandning med 65 gram per portion
Den ultimata blandningen för viktökning
"Absolute beast of a mass gainer! If you are looking to seriously bulk up then you wont go far wrong with this. Great flavours too!" - *Craig

Total Mass Matrix Extreme contains a cutting-edge tri-protein blend that delivers up to 54g of protein and up to a colossal 966 calories per serving.

Its Extreme formulation sets a new standard in next level mass gainers through the inclusion of a potent vitamin and mineral blend, glutamine and 5g of creatine.

Used in conjunction with a training program, our most comprehensive gainer is designed to promote an increase in muscle mass and fuel your body through the most intense of workouts.