Why you love it...
"I was after a natural protein shake and got this recommended by a mate. Tastes incredible. I take after gym sessions or whenever I get the munchies." - Alex
Why we love it...
Whey Protein 360 is a premium protein shake that breaks new ground in protein formulation and flavour. It has been specifically designed to work with almost any fitness or body goal as its high in protein and low in sugar. Whey Protein 360 is ultra pure, natural and made with the very finest protein sources. We guarantee you won't find a better tasting protein shake on the planet.


NOW 15% OFF! - *CYBER WEEK*
CODE: CYBER15
*Code Valid on Orders Over £10 After Discounts
Frequently Bought With...
Protein Shake
Weight Loss Meal Replacement
Fat Burner
Top Picks
WHY CHOOSE WHEY PROTEIN 360?
Whey Protein 360 is the ultimate whey protein concentrate blend, building on the success of Whey Protein 80 and setting new standards in taste and nutrient profile. When creating Whey Protein 360 we left no stone unturned, every box has been ticked to create the #1 protein shake fit for every gym goer. Developed in our state of the are facility, Whey Protein 360 delivers 23g of protein per serving, using an innovative blend of 5 protein sources to deliver an optimal blend of both fast and slow release proteins that help to promote and maintain muscle growth.
With 13 flavours on the menu there's no shortage of insane tasting flavours to try. Whether it's our classic Chocolate Silk, French Vanilla or you go adventurous with White Choc Peanut Sundae each and every flavour promises a smooth, instant mixing, no grittiness taste sensation that will have you coming back for more time and time again.
WHAT MAKES WHEY PROTEIN 360 UNIQUE?
Whey protein 360 is a combination of years of experience working in elite sport and the very latest thinking in high performance protein shakes. Its unique formulation combines high quality sources of both slow and fast-acting proteins to provide a steady stream of nutrients. Whey Protein 360 contains whey protein concentrate, whey protein isolate, milk protein, soy protein and hydrolysed whey protein in probably the most balanced protein formula on the market today. Each 30g serving provides:
+ Over 23g of quality protein + Less than 1.4g of fat + Less than 0.2g of salt + Epic premium flavours+ Premium grade protein blend
WHO IS WHEY PROTEIN 360 DESIGNED FOR?
It is ideal for anyone leading an active lifestyle or regularly working out, providing an unparalleled protein boost any time of day. Whey Protein 360 should be used as part of a calorie controlled nutritional plan and ideally regular sustained exercise for optimal results. The insane-tasting flavours mean that no matter how you like to make your shake - mixed with water, milk or even almond milk - we know you'll love every single flavour from Strawberries 'n' Cream to Chocolate Silk.
ULTIMATE QUALITY ASSURANCE OF WHEY PROTEIN 360
Whey Protein 360 is produced in-house at our state of the art facility right here in the UK. We use only the very finest quality protein sources to ensure unparalleled levels of protein purity for the ultimate peace of mind. We also offer an unprecedented Lifetime Guarantee on every we sell. Whey Protein 360 is supplied in a re-sealable foil pouch to ensure freshness and includes a FREE scoop in every product. Each product must pass rigorous audits and checks before being given the TPW quality seal of approval. Traceability, quality, and consistency are the three things we demand on every single ingredient we use in our award-winning products.
To ensure your product remains ultra fresh until you're ready to use it, when you order any 4.8kg sizes of Whey Protein 360, we will provide you with two, 2.4kg foil pouches.
* Disclaimer: Customer reviews are independent and based on personal experience. Individual results may vary. Products designed to be taken in conjunction with a balanced diet and training plan.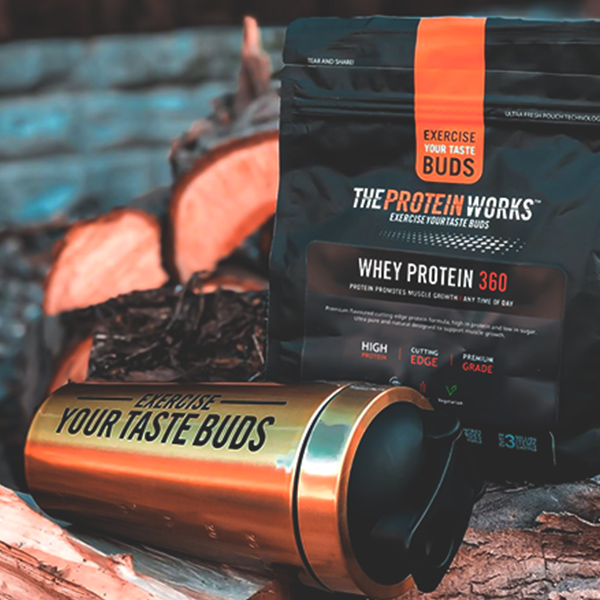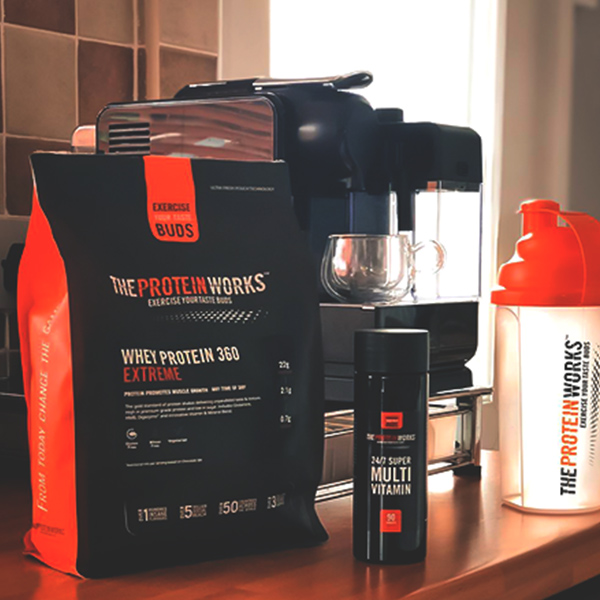 HAVE YOU TRIED WHEY PROTEIN 360 EXTREME?
You've learnt a little about our Whey Protein 360, sounds pretty good right? But what if we told you there was something bigger, and better than this? You'd want to give it a try wouldn't you?! Well, you're in luck because we've created a global game-changer, a masterpiece of protein shake wizardry. Step up, Whey Protein 360 Extreme, the best of the best, infused with an intense protein concoction and the famous TPW™ vitamin blend. Think you can handle it? Click here to go directly through to this best seller.
* Disclaimer: Customer reviews are independent and based on personal experience. Individual results may vary. Products designed to be taken in conjunction with a balanced diet and training plan. Nutritional Information per serving based on unflavoured.
Serving Size
30g (one large scoop) of Whey Protein 360
Add 150-225ml of water or milk into your TPW™ Master Blender. Add one large scoop (30g) of Whey Protein 360, mix well and drink.
The less liquid you use, the thicker your shake will be, so adjust to suit your own taste.
Typical Daily Usage of Whey Protein 360:
1 serving upon waking
1 serving 30-45 mins prior to exercise
1 serving immediately after exercise
1 serving between meals
1 serving before bed
Q. When should I take Whey Protein 360?
A. It depends on your lifestyle and goals, we recommend the following optimal serving times for Whey Protein 360: Immediately upon waking. 30 minutes pre workout and immediately after your workout. Before you go to bed. Any other time during the day when you require additional protein intake.
Q. How much Whey Protein 360 should I take?
A. It is recommended that you consume between 3-5 servings per day, dependent upon your own personal needs. A serving would be classed as 30g (one scoop) of whey protein 360. It is recommended that you take 1g of protein per pound of body weight, so adjust your intake accordingly.
Q. Is Whey Protein 360 suitable for vegetarians and vegans ?
A. Whey Protein 80 is suitable for vegetarians, but not for vegans.
Q. Can I take Whey Protein 360 with other supplements?
A. Yes, no problem. We recommend you always check serving instructions on each product if you plan on taking a combination.