Why you love it...
"Hands down the best protein powder I've ever tried. Mixes well and tastes even better!" - Matt*
Why we love it...
Winner of the coveted "Best Protein Award", Whey Protein 80 is the gold standard in premium protein shakes, made simply with 100% pure whey protein concentrate.

Its five star rating comes from its ultra smooth texture, insane range of flavours and instant mixing. You're guaranteed zero after-taste, zero grittiness and the closest thing to a real milkshake.

A single serving contains up to a massive 82% protein and is low in sugar, low in calories, low in fat and low in cholesterol. Its the ultimate protein shake to boost your protein intake any time of day.
NOW 30% OFF! - *SPECIAL OFFER!*
CODE: DEAL30
*Code Valid on Orders Over £15
Frequently Bought With...
Performance Supplement
Amino Acid Powder
Protein Shake
Top Picks
What is Whey Protein 80?
Winner of the highly coveted 'Best Protein Award' in the industry leading FSN Awards, Whey Protein 80 is unrivalled in terms of quality and taste. This unique protein shakes has been developed without compromise using only the finest whey protein concentrate, delivering a massive 82% protein content - that's 20.6g of protein, 1.5g of carbohydrates and 101 calories per 25g serving. It's not by accident, it's known within TPW Towers as 'the mother of all proteins'.
Most protein shakes on the market today are produced by a faceless third party manufacturer, we are different. At TPW, we manufacture all our own protein shakes ourselves right here in the UK in our state-of-the-art production facility. This means we spend a lot of time perfecting every aspect of the product from taste to texture. The range of flavours available in Whey Protein 80 is designed to keep things fresh in your supplement cupboard. Our advice is find your absolute favourite and always have that at hand, but then mix it up with one or two quirky flavours. With so many to choose from, you should always have that "protein o'clock" feeling!
By the way, if you're still not convinced on Whey Protein 80, we recommend checking out Whey Protein 360, our best-selling protein shake which offers a multi-phased release system.
What are the benefits of whey protein 80?
The whey protein is processed at low temperatures to protect the protein fractions and ensure the protein remains in its un-denatured state. The result is a premium grade whey protein that is ideal for protein shakes as it delivers the highest possible nutritional value. Whey Protein 80 is high in BCAAs and low in fat and cholesterol, making it a healthy protein shake to consume any time of day. Amino acids are the building blocks of our muscles and naturally occur in protein and protein has been shown to contribute to the growth and maintenance of muscle mass.
Below are a few of the reasons why TPW Whey Protein 80 is award-winning...
Smooth Texture - our protein shakes are very similar to your favourite milkshake, smooth and moorish, say no more
Insane Flavours - it's what we're famous for in the sports nutrition world, our unique in-house Flavoury means we have the best tasting protein shakes, bar none
Zero After-taste - poorly formulated protein powder can leave a bad after-taste, through painstaking work by our team of nutritionists, you'll be smiling, not grimacing after every sip
Instant Mixability - low quality whey protein never mixes well, it's a red flag straight away, Whey Protein 80 just needs a light shake and you're 100% mixed
No Grittiness - let's face it, nobody wants a gritty shake and due to the purity of TPW ingredients, we guarantee 100% zero grit in your Whey Protein 80
Subtle Sweetness - most shakes are just too sweet after the first few sips, we keep things subtle so you can enjoy your shake time after time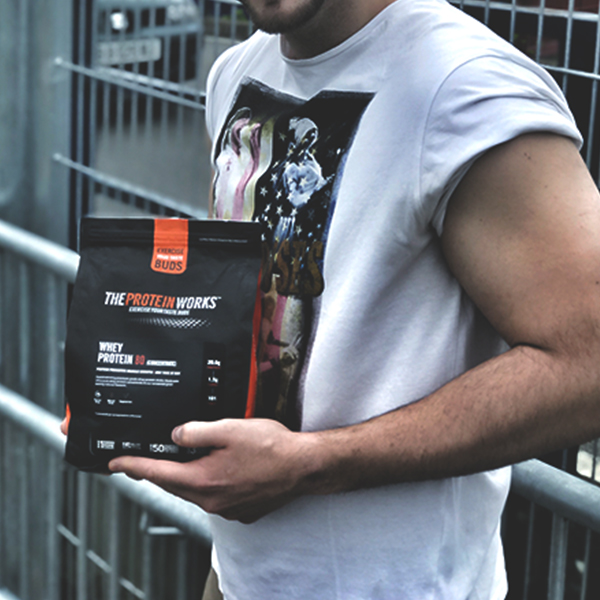 How Natural is Whey Protein 80?
Whey Protein 80 is as natural a food source as you could imagine and has been a staple part of elite athletes diets' for years. Harnessing the power of nature, our whey protein comes from the milk of open-air pasturing grass-fed cows. This provides the very finest protein as research has shown that grass-fed milk contains more linoleic acids and higher omega-3 fatty acids than milk from cows confined to indoor rearing.
TPW Whey Protein 80 provides the reassurance of being pure and natural...
Ultra Pure Recipe - Whey Protein 80 is made with only the finest whey protein concentrate
Sourced From Milk - whey protein is sourced from sweet cheese which is ultimately sourced from milk
Grass-Fed Cows - for optimal quality, our whey comes from field pastured, grass-fed cows
Zero Aspartame - we NEVER use aspartame in any of our products due to the negative research around it
Simply Mix with Milk or Water - it's entirely your choice, but all you need add is milk or water to create an amazing shake
When should I use whey protein 80 Powder?
Whey protein shakes can be consumed pretty much any time of day, although for optimal results we recommend consuming within one hour of your workout. This is known as the "golden hour" when your body and muscles are starting to repair. Recovery in any sport is key to performance. The incredible properties of Whey Protein 80 mean it can be taken at any time that works for you to boost your protein intake and prevent you diving for the chocolate box!
We often get asked 'If I haven't taken my protein shake after working out, will I lose my gains?' and the answer to that is no. Yes, your body does need an increase in protein and it will help you recover and gain quicker in the long run, but as long as you maintain your protein levels throughout the day consuming 3-5 servings your body will be able to store and use the protein when needed and help you achieve your dream physique.
Who is whey protein 80 Powder Suitable for?
Whey Protein 80 is suitable for everyone, for those wanting to build muscle mass or simply want a sweet drink or snack that packs a punch and is low in calories, low in lactose, low in sugar and low in cholesterol. It's therefore perfect for individuals on a calorie controlled diet. We'd always recommend using it in conjunction with a varied and balanced diet and a regular exercise routine.
WHAT'S THE BEST FLAVOUR WHEY PROTEIN SHAKE?
Whey Protein 80 is made from the finest premium grade whey protein personally selected by us for its ultra-pure properties. It is manufactured at our state-of-the-art facility right here in the UK with our widely acclaimed flavours to create the finest quality whey protein shake. As we produce all our protein formulas ourselves, each whey protein offers the ultimate in freshness.
What is the optimal amount of protein to consume?
For the physically active, it's advised to have 1.6 - 2.0g of protein per kg of body weight. ie. someone who weighs 80kg would need to aim to have 128g - 160g of protein per day. Splitting this up throughout the day is the best way to optimize your protein intake.
How is Whey Protein Concentrate Made?
Produced in-house at our own state of the art facility in the UK, it offers unparalleled levels of protein purity and has been independently tested for the ultimate peace of mind. We don't make big claims about our products, we prefer to let customer ratings, reviews and feedback do the talking for us. We also offer an unprecedented LIFETIME GUARANTEE on every product you buy from The Protein Works™. Whey Protein 80 protein shake is supplied in a re-sealable foil pouch to ensure freshness and a FREE scoop is included in every product. Why not couple your Whey Protein 80 with BCAA or Creatine Monohydrate for that extra boost to your health and fitness regime?
* Disclaimer: Customer reviews are independent and based on personal experience. Individual results may vary. Products designed to be taken in conjunction with a balanced diet and training plan. Nutritional Information per serving based on unflavoured
Åt det dyrare hållet, men kvaliteten känns värd det. Bra smak, konsistens och har börjat se resultat.
Hög kvalitet och bra utbud på smaker. Ny favorit helt klart.
Portionsstorlek: 25g (en stor 70ml måttskopa, inkluderad i påsen) av Vassleprotein 80
Vi rekommenderar mellan 3–5 portioner per dag av Vassleprotein 80, beroende på dina egna individuella behov. Det rekommenderas allmänt att man för att få optimala fördelar, bör ta 2 gram protein per kilo kroppsvikt per dag.
Tillsätt 150–225 ml vatten eller mjölk i din TPW™ Master Blender. Tillsätt en stor 70 ml måttskopa (25 g) Vassleprotein 80, blanda väl och drick.
Ju mindre vätska du använder desto tjockare kommer shaken att vara, så justera för att passa din egen smak.
Typisk daglig användning av Vassleprotein 80:
1 portion när du vaknat
1 portion 30–45 minuter före träning
1 portion direkt efter träning
1 portion mellan måltider
1 portion innan sänggående
F. När ska jag ta Vassleprotein 80?
S. Det beror på din livsstil och dina mål. Vi rekommenderar följande optimala portionsfördelningar för Vassleprotein 80: Direkt när man vaknar. 30 minuter före träning och omedelbart efter träning. Innan du går till sängs. Någon annan tidpunkt under dagen när du behöver ytterligare proteinintag.
F. Hur mycket Vassleprotein 80 ska jag ta?
S. Vi rekommenderar mellan 2-5 portioner per dag, beroende på dina egna individuella behov. En portion skulle klassas som 25 g (en måttskopa) vassleproteinkoncentrat. Vi rekommenderar att man tar 2 gram protein per kilo kroppsvikt, så du kan anpassa ditt intag efter det.
F. Vad är Aminogen® och varför finns det i Vassleprotein 80?
S. Aminogen® är ett revolutionerande system som är växtbaserat och allergenfritt och visar än en gång vårt åtagande att utveckla de mest avancerade kosttillskotten på marknaden idag.
F. Är alla vassleproteinkoncentrat desamma, oavsett märke?
S. Som kund anser vi att det inte bara är din rätt att kräva det bästa utan även att du ska veta att du får det bästa. Man kan lugnt säga att inte alla proteiner är skapade lika! Vi har åtagit oss att erbjuda insyn och öppenhet i alla våra produkter och därför tillhandahåller vi följande information om alla våra proteinprodukter: 1. Produktprofil – en komplett översikt över produktens bakgrund, inklusive vårt godkännande, vår tillverkningsplats och pengarna tillbaka-garanti 2. Inblick i protein – en fullständig redogörelse för de typer och kvantiteter med protein som finns i produkten 3. Produkttest – ett aktuellt analyscertifikat som ger oberoende verifikation av proteininnehållet. Om du inte köper från TPW™ uppmanar vi dig att kräva den informationen av din nuvarande leverantör. Så enkelt är det!
F. Hur kan jag veta om proteinet jag använder är ett protein av god kvalitet?
S. Viktiga tecken att leta efter är mängden protein som anges på etiketten. Titta efter ett vassleproteinkoncentrat med minst 80 %. Icke smaksatt, rent vassleproteinkoncentrat skall vara jämnt med en neutral mjölksmak. Det bör vara lätt att blanda och ha lite skum. Men självklart är det bästa sättet att ta reda på kvaliteten att titta på de resultat den ger.
F. Innehåller ert smaksatta Vassleprotein 80 konstgjorda smak- och färgämnen?
S. Vi gillar att hålla saker och ting rena, så du behöver inte oroa dig för att hitta några artificiella färger eller smaker i några TPW™-produkter. Det är inte något som vi bara säger i annonser, det är ett löfte!
F. Är Vassleprotein 80 lämpligt för vegetarianer och veganer?
S. Vassleprotein 80 är lämpligt för vegetarianer, men inte för veganer.
F. Kan jag ta Vassleprotein 80 tillsammans med andra kosttillskott?
S. Ja, inga problem. Vi rekommenderar att man alltid kollar serveringsinstruktionerna på alla produkter om man vill ta en kombination av tillskott. Vassleprotein 80 tas oftast tillsammans med kreatin, ren havre, BCAA och glutamin.
F. Kan jag ta för mycket protein?
S. Om du inte förbränner överskottskalorierna som kommer med det extra proteinet kan det leda till ökat kroppsfett. Inga andra biverkningar har noterats.
F. Hur gör jag den perfekta vassleproteinshaken med Vassleprotein 80?
S. Det finns några saker att tänka på om du funderar på att göra den perfekta proteinshaken. Först av allt behöver du ett kvalitetsprotein som vårt Vassleprotein 80. Du kommer också att behöva en ordentlig mixer snarare än en shaker. Vi rekommenderar TPW™ Master Blender. Häll sedan önskad mängd vätska i mixern. Tänk på att mjölk ger en krämigare shake medan vatten inte innehåller det extra fett som kommer med mjölk. Häll därefter en måttskopa av protein i vätskan, skruva på locket och skaka väl. Det är inte kärnfysik, men följ de grundläggande principerna och du kommer att göra välsmakande shaker många år framöver.
F. Hur vet jag hur mycket Vassleprotein 80 det finns i en proteinblandning eller formel om det inte står på etiketten tillsammans med andra proteinkällor?
S. Sanningen är att du inte kommer att kunna veta! Vissa skrupelfria varumärken uppger inte proteinfördelningen av de proteintyper och -mängder som används i deras produkter. Olika typer av protein kostar olika mycket och de kan erbjuda helt olika kvalitetsnivåer. Genom att "justera" produkter är det möjligt att uppnå och uppge ett högt proteininnehåll på en etikett genom att använda olika typer av protein och råmaterial av lägre kvalitet. Om en proteinprodukt uppger ett högt proteininnehåll men är otroligt billigt, ska du allvarligt ifrågasätta dess innehåll. Vi är ett av få varumärken i Storbritannien som faktiskt tillverkar våra produkter i egen regi så det finns inte mycket vi inte vet om protein och kosttillskott. Dessutom uppger vi mängden av varje protein i varje TPW™-produkt. Inget struntprat, inga dimridåer, bara TPW™:s fulla insyn i vad du får.
F. Finns det några biverkningar av Vassleprotein 80?
S. Vi har inte hört talas om några biverkningar från att ta Vassleprotein 80 annat än kanske ökad gasbildning! Förutsatt att du inte är allergisk mot mjölkproteiner eller behöver begränsa mejeriprodukter av medicinska skäl, bör du kunna ta vassleproteinet utan problem. Om du är allergisk mot mjölkproteiner, kontakta din läkare innan du konsumerar någon typ av vassleprotein.
F. Finns det några livsmedel som innehåller vassleproteinkoncentrat?
S. Nej, det finns inga livsmedel som innehåller vassleproteinkoncentrat. Det finns många livsmedel som innehåller höga halter av protein, såsom rött kött, kyckling, kalkon, fisk, ägg och ost.
F. Vilka effekter kan jag förvänta mig från att ta Vassleprotein 80 tillsammans med mitt träningsprogram?
S. Resultaten varierar beroende på kost, näring, träning och individuell kroppstyp.
F. Vem bör använda Vassleprotein 80?
S. Bodybuilders och styrkeidrottare/uthållighetsidrottare/personer som går på en kontrollerad viktminskningsdiet/nybörjare inom styrketräning/personer som deltar i lagsporter